Transmission fluid is a crucial part of every single Nissan vehicle. Your vehicle health depends on various fluids. The fluids within your transmission are responsible for lubricating essential parts. They keep everything fresh. They keep parts in fine working order. It's important for every vehicle driver to be conscientious of vehicle fluids. One of the more important fluids resides in the transmission. This fluid can determine whether a vehicle can shift from one gear to the next with ease. This fluid can be crucial to the ability of a Nissan vehicle to go in reverse. Low levels of fluid can be detrimental for a Nissan. Bad fluids can also hamper your Nissan. Dirty fluid can be an issue that needs to be resolved quickly. The transmission is a delicate part of your vehicle.
Your Nissan needs to be maintained with regular maintenance. Our service department is always here to carefully examine your fluids and major components. We can analyze any potential issues. Our professionally trained technicians are adept at finding resolutions to the problems that persist within your transmission. Does this mean regular maintenance? Perhaps, it does. A regular maintenance schedule can often alleviate any long term issues. It keeps long term transmission problems from occurring. It can save you big bucks in the long run. That's why our service department wants to help you develop a game plan for maintenance. We understand the value of fluids. We know each fluid has a major responsibility. Low levels might be indicative of a major problem. Leaks might need to be addressed quickly rather than later.
When Should I Change My Transmission Fluid?
Your transmission fluid should be regularly observed by a professional technician if possible. Fluids can deteriorate or become old because of wear and tear. Your Nissan vehicle owner's manual may have elaborate details concerning the regularly scheduled intervals for transmission flushes. Our service department can also recommend a schedule or game plan for possible fluid changes based on your individual vehicle needs. The bottom line for changing transmission fluid is based on the age, color and smell. Transmission fluid needs to be able to do the job that was intended. A professional technician can diagnose any potential issues and recommend possible solutions.
What Are Symptoms Of Transmission Problems?

You might notice your transmission is sluggish on acceleration. A vehicle owner also might notate a slippage between a change in gears. You could also notice a hindrance if you put your vehicle in reverse. Weird sounds might be part of the equation while changing gears. You could notice a leak under your vehicle. You might just be observant of low levels while checking your dipstick. The transmission needs to be observed frequently. Our service team wants to make sure you have a healthy transmission. This involves regular maintenance and checks periodically. Our professionally trained technicians are factory trained to observe potential issues and address problems.
Schedule Service Today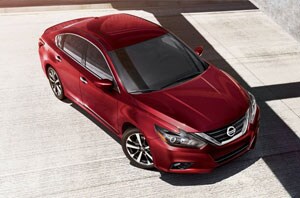 We want to make sure your Nissan is in outstanding condition. That's why we always recommend regular maintenance. This includes regular fluid checks. We understand the transmission fluid is a major part of this. You can schedule an appointment with our service team today. We will look over your entire vehicle. We know you have a busy schedule. Our goal is to keep your vehicle on the road.
Service Hours
Monday

7:00 am - 7:00 pm

Tuesday

7:00 am - 7:00 pm

Wednesday

7:00 am - 7:00 pm

Thursday

7:00 am - 7:00 pm

Friday

7:00 am - 7:00 pm

Saturday

7:00 am - 5:00 pm

Sunday

Closed