Nissan Dealership in Duluth Reviews the 2016 GT-R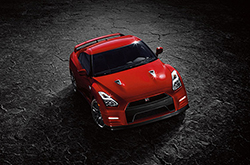 Offering all-out performance that holds nothing back, the new 2016 Nissan GT-R provides ample muscle with two advanced engines that don't skimp on horsepower. Having so much muscle at your command might make you overlook everything else GT-R has to offer, but there's a lot more to this coupe than brawn alone. In addition to its spectacular performance, 2016 Nissan GT-R reviews have also been talking about its added features and the debut of a new limited-production Gold Edition that celebrates the supercar's successful 45-year career.
Still, we've got to start by discussing performance, which is jaw-dropping to say the least. Each and every GT-R powerplant is handmade by its own master engine builder; precision-crafted aluminum and magnesium parts are carefully put together to compose each engine and all components are produced using the most exacting standards, to ensure top quality and flawless design. As a result, every GT-R gets an advanced, lightweight, high-power engine that'll quickly "jump to warp speed," according to Edmunds.com's 2016 Nissan GT-R review.
The base VR38DETT 3.8-liter twin-turbo V-6 delivers a bounteous 545 horsepower and it's mated to a six-speed paddle-shifted transmission that offers smooth, rapid gear changes. If you really want to raise the hairs on your passengers' necks, there's also the remarkably fast GT-R NISMO edition, which received several engine updates in 2015 that raised its power to 600 hp. Yea. We'll say no more. Just come test drive the new 2016 Nissan GT-R in Duluth to see what it can do.
On the subject of enhancements, last year's updates are still noteworthy. A recalibrated suspension keeps the coupe more firmly planted on the road, while refined driving dynamics, a quieter cabin and exterior updates like the addition of LED lights continue to elevate GT-R's luxury quotient. This year, the coupe gains sleek new 20-spoke wheels on Premium trim levels and a 2016-only Gold Edition with a special "Silica Brass" paint color, gold-toned VIN and commemorative plaque.
In the amenities department, the 2016 Nissan GT-R in Duluth continues to offer standard equipment such as a rearview camera and a 7-inch touchscreen with navigation, Bluetooth and satellite radio, while NISMO models come appointed with sharp dual-colored black leather/red alcantara sport seats and 20-inch forged-alloy RAYS wheels.
To experience one of the industry's most iconic supercars, visit Gwinnett Place Nissan at 2555 Pleasant Hill Road and take a spin!