About Rogue Reviews for 2015 from Gwinnett Place Nissan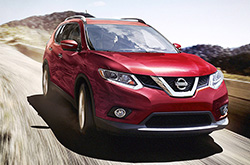 Following its redesign in 2014, the Nissan Rogue enters 2015 equipped with every outstanding feature available on the previous model. The SUV offers extensive cargo space with an incredible EZ Flex Seating System and Divide-N-Hide Cargo System that deliver up to 70 cu.-ft. of room when the rear seats are folded down. Aside from this benefit, the 2015 Nissan Rogue also features a selection of upgrades this year that further impress buyers. Check out our 2015 Nissan Rogue review below to learn more about these features and additional components.
To continue its success for 2015, the latest Nissan Rogue enters the market with a couple of fresh updates that drive up the SUV's appeal. A new Eco mode has been added to the powertrain package that helps preserve fuel, increasing efficiency throughout the roster. The SV Premium Package has also gained a new option: heated cloth seats, which provide the perfect amount of warmth on cold days during winter months. In addition to this fresh feature, the 2015 Nissan Rogue in Duluth is available with a brand-new Artic Blue Metallic exterior color. The shade replaces Graphite Blue, enhancing the color palette for buyers throughout the North American market.
Backed by a 2.5L four-cylinder engine, the 2015 Nissan Rogue delivers optimal performance during every drive. The four-cylinder produces 170 horsepower and 175 lb.-ft. of torque, which is supported by an Xtronic continuously variable transmission. Ten percent more efficient than its predecessor, the Xtronic transmission helps produce a best-in-class 33 mpg highway on front-wheel-drive models. This rating is 18 percent better than the one set by the 2013 model, proving the 2015 Nissan Rogue in Duluth is one of the best models to date.
Want to find out more details about the Rogue? Keep reading our 2015 Nissan Rogue review for extra facts and specs.