About Leaf Reviews for 2015 from Gwinnett Place Nissan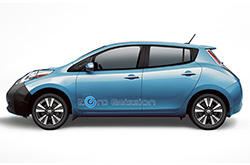 The Nissan LEAF is currently the best-selling electric vehicle in the world and Nissan hopes it will continue its reign for 2015 with the release of the brand-new model. Offering exceptional space and fuel efficiency, the 2015 Nissan LEAF enters the market with a handful of new and updated features that contribute to the car's charisma. Fresh technological components, wheels and an all-new exterior color, each work to attract new buyers across the market and improve the LEAF's offerings. By checking out our 2015 Nissan LEAF review below, you can learn about these exquisite additions and acquire extra info about the car's other features.
For the new model year, the 2015 Nissan LEAF in Duluth is giving buyers a range of new features to take advantage of. The LEAF S model has gained standard "B-Mode," which specializes in aggressive regenerative braking, and both SL and SV models receive voice destination entry and hands-free text messaging. In addition to these upgrades, which enhance the driving experience and increase functionality within the cabin, the LEAF comes with new standard 17-inch wheels on the SV model and offers a brand-new MorningSky Blue exterior paint color on the entire lineup. The fresh shade spruces up the EV's appeal and gives buyers an additional paint color to choose from.
With an EPA-estimated 84-mile driving range on a single charge, the Nissan LEAF provides exceptional driving time for "green" buyers. It comes equipped with a 24 kWh lithium-ion battery pack and an 80-kW electric motor the produces top-notch performance. Altogether, the system is able to deliver 107 horsepower and 187 lb.-ft. of torque. These capabilities allow the 2015 Nissan LEAF in Duluth to go from zero to 60 mph in 9.9 seconds - an adequate time for an EV.
Interested in finding out more details about this electric car? Continue reading our 2015 Nissan LEAF review for additional information.