Nissan Juke Review for 2015 Model Year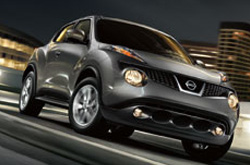 Coming into 2015, the Nissan Juke is unchanged, displaying many of the exact same components buyers admired on last year's model. As a mini SUV, the 2015 Nissan Juke continues to offer substantial power, great handling and overall fantastic performance. The model also comes with a significant amount of outstanding technologies as well, such as Bluetooth and keyless entry, satisfying tech savvy fans of all ages. To find out more details about the SUV and its excellent qualities, read our 2015 Nissan Juke review for complete information.
The latest Juke model comes with two engine options for the new model year: one for the standard Juke & one for the Juke NISMO. Delivering 188 horsepower and 177 lb.-ft. of torque, the turbocharged 1.6L inline four-cylinder engine is fitted on the standard 2015 Nissan Juke in Duluth and produces exceptional performance. A stronger turbocharged 1.6L inline four-cylinder engine is equipped on the NISMO, exerting 197 horsepower and 184 lb.-ft. of torque. Both engines on each model are supported by a CVT transmission; however, the SV and NISMO variants allow buyers to choose a six-speed manual gearbox if they choose.
Outside of its power offerings, the 2015 Nissan Juke in Duluth features a wide-range of top-notch features across its trims that today's buyers will enjoy. Components such as automatic climate control, cruise control, Bluetooth, satellite radio, touchscreen navigation, a sunroof and rear privacy glass are all offered on select models. Additionally, a Rockford Fosgate stereo system is available with the Navigation package and is the perfect feature for music lovers. It comes with a subwoofer and an iPod interface, allowing drivers to enjoy their music like never before.
To acquire more knowledge about this unique SUV, keep reading our 2015 Nissan Juke review below. You can also view an exclusive 360-tour of the model, showcasing its bold, eccentric design.