Nissan GT-R Review for 2015 Model Year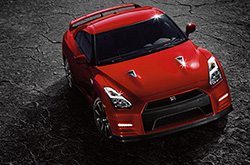 Nissan's most popular sports car, the GT-R, is back in the lineup for 2015 and packed with a grand assortment of new exterior and interior components. The refreshed 2015 Nissan GT-R offers buyers three models to choose from, including the GT-R Premium, GT-R Black Edition and all-new GT-R NISMO. Each variant comes with a great selection of technologies and amenities that satisfy drivers' needs and cater to the cars' performance background. The brand-new GT-R NISMO provides exceptionally outstanding features that support its first-class horsepower, which you can read about in our 2015 Nissan GT-R review below.
The greatest edition to the Nissan GT-R for 2015 is the all-new NISMO model. It's being said that it's the fastest Nissan GT-R ever built, surpassing the other two models when it comes to torque and horsepower. Outfitted with a 3.8L twin turbo V-6 engine, the 2015 Nissan GT-R NISMO in Duluth delivers and astounding 600 horsepower and 481 lb.-ft. of torque. The engine is backed by a six-speed dual clutch transmission that helps drive its top-of-the-line performance, making it perfect for the track. Speaking of racetracks, the NISMO has already made a name for itself on the famed Nurburgring course and currently holds the volume production car lap record. With excellent aerodynamics and handling, the supercar is a driver's dream, but it'll only be available for a limited time. Get yours now before they run out and experience the thrills it has to offer.
The Premium and Black Edition GT-Rs don't produce 600 horsepower like the NISMO, but they do feature a 3.8L engine that delivers 545 horsepower and 463 lb.-ft. of torque. In addition to this, they also sport a variety of enhancements for the new model year that add to their appeal. Some of the fresh features available on the 2015 Nissan GT-R in Duluth include a Bose Active Noise Cancellation system, new LED headlamps, a Premium Interior Package, a Real Red exterior paint color and an optional Titanium exhaust system. Many of these features are being offered on the GT-R NISMO as well, enhancing driving experiencing for all occupants.
Do you want learn more about the latest GT-R? Keep browsing our 2015 Nissan GT-R review for additional information.