About Gwinnett Place Nissan Armada Reviews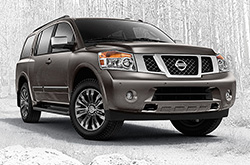 Nissan's big and bold SUV, the Armada, jumpstarts the 2015 model year offering buyers a small assortment of new features. The latest model comes with new paint colors, slight exterior modifications, and interior revisions that cater to its buyers' wants and needs. Additionally, the 2015 Nissan Armada sports a range of standard and available equipment that will leave the automotive world impressed. You can read about the SUV's upgrades and incredible engine in our 2015 Nissan Armada review below.
Similar to its 2014 predecessor, the Nissan Armada is fairly the same this year outside of a few new features. For 2015, the SUV gains a couple interior revisions, which include the addition of a standard power lumbar on the driver's seat and updated styling across the lineup. The 2015 Nissan Armada in Duluth also receives 20-inch aluminum-alloy wheels on SL and Platinum models that produce an upscale look. This new presence is further enhanced by two fresh exterior paint colors: Magnetic Black and Artic Metallic Blue, which are available on all models throughout the roster.
Always one to deliver optimal power, the 2015 Nissan Armada in Duluth comes stocked with a heavy duty 5.6L DOHC V-8 engine. Exerting 317 horsepower and 385 lb.-ft. of torque, the engine produces incredible performance, which is supported by a standard five-speed automatic transmission. Outfitted with tow/haul modes, the transmission also backs the SUVs towing abilities. It features a maximum towing capacity of 9,000 pounds on SL and Platinum 4x4 models, giving it the ability to transport large items with ease - a benefit for drivers with boats.
If you want to know more about the new Armada, continue browsing our 2015 Nissan Armada review for details. You can also view exclusive pics of the model and check out a video review, highlighting its best features.