Atlanta Nissan Dealer Researches the New Xterra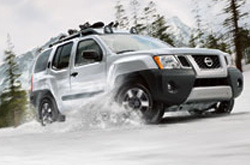 Welcome to the Gwinnett Place Nissan review of the 2013 Xterra. Stop worring about your next Nissan purchase; look to the prominent Xterra franchise in Atlanta for well researched reviews authored by automotive enthusiasts. Filled with invaluable data and specs, each article gives you full access to everything the Nissan Xterra has to offer. As always, Gwinnett Place Nissan is available seven days a week to answer any questions you might have. Don't hesitate to call and speak with a representative.
2013 Nissan Xterra Walk-around Video
2013 Nissan Xterra Quick Specs
Check out the 2013 Nissan Xterra side-by-side with versus similar autos like the 2013 Subaru Forester, Toyota FJ Cruiser, Dodge Durango, Chevrolet Tahoe and the Jeep Wrangler, and you will notice that the 2013 Xterra out does those vehicles in several areas. Get a load of the reasons see why!
2013 Nissan Xterra MSRP: $25,480
2013 Nissan Xterra Seats: 5 passengers
2013 Nissan Xterra MPG: 16 city / 22 highway
2013 Nissan Xterra Cargo Space: 36.3 cubic feet
2013 Nissan Xterra 0-60 MPH in 7.3 seconds
2013 Nissan Xterra Body Style(s): Midsize SUV
2013 Nissan Xterra Colors: Super Black, Metallic Blue, Metallic Green, Lava Red, etc...
Learn About the 2013 Xterra's Engine & Powertrain
Safety Features & Nissan Warranty Facts for Owners
Our Nissan Service Center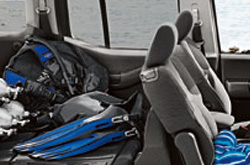 Nissan Xterra owners won't get the same spectacular factory-trained Nissan mechanics and genuine Nissan parts at a megacorp service company. But at our Atlanta dealership you'll receive this time and time again, along with the reassurance that comes with getting a 12-month long service warranty. Turn to the auto repair old pros in Atlanta, Gwinnett Place Nissan, when your Nissans takes a whipping. Whether you come for customary oil changes, a manageable tire alignment and swaps or anything else, we'll complete your Nissan repairs with no trouble. From the easy to complete to the complex, Gwinnett Place Nissan takes care of it all and offers modest prices, awesome service and old pros mechanics. The next time you head down to our service department, take a coupon! All you have to do is click the link underneath this text for specials.