Gwinnett Place Nissan Previews the New Maxima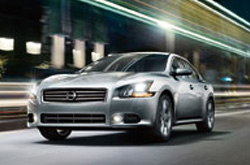 Gwinnett Place Nissan is your trusted Duluth resource for reviews of the 2013 Nissan Maxima. Stop worring about your next Nissan purchase; look to the chief Maxima retailer in Duluth for well researched reviews authored by automotive enthusiasts. Make familiar decisions when it comes to your next auto purchase, don't take guesses! Each article is loaded with information and vehicle features in way that's easy to understand. As always, Gwinnett Place Nissan is available seven days a week to answer any questions you might have. Don't hesitate to call and speak with a representative.
360 Degree Nissan Maxima Video
Nissan Maxima Comparisons & Quick Specs
Comparing the 2013 Nissan Maxima next to against vehicles like the 2013 Chrysler 300, Hyundai Genesis, BMW 3 Series, Volkswagen CC, Lincoln MKZ and the Acura TSX, and you will notice that the 2013 Maxima outshines the competition in gobs areas. Check out our bullets to see why!
2013 Nissan Maxima Cargo Space: 14.2 cubic feet
2013 Nissan Maxima Colors: Metallic Slate, Tuscan Sun, Brilliant Silver, Navy Blue, etc...
2013 Nissan Maxima Body Style(s): Sedan
2013 Nissan Maxima Seats: 5 passengers
2013 Nissan Maxima 0-60 MPH in 5.8 seconds
2013 Nissan Maxima MPG: 19 city / 26 highway
2013 Nissan Maxima MSRP: $32,780
Warranty & Safety Information for Duluth Maxima Owners
Helping You Uphold the Value & Quality of Your Investment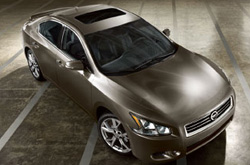 Gwinnett Place Nissan's car repair squad have served Duluth for years with phenomenal workmanship and actual Nissan parts. Gwinnett Place Nissan's auto service squad will help keep your Nissan Maxima in excellent physical shape. Whether you need us to undertake a straightforward chore as an oil change, or take on more complicated Nissan service and repairs like transmission rebuilds, strut and shock repairs, timing belt replacements. Gwinnett Place Nissan is your clear winner in Duluth for quality, professional Nissan repairs and routine maintenance. Check out our service specials by clicking on the link below.