The 2012 Nissan Cube from Gwinnett Place Nissan is the perfect example of committed automotive craftsmanship built to fit the needs of GA Nissan shoppers. Gwinnett Place Nissan is elated to present the 4-door 2012 Nissan Cube Compact Wagon. As your Duluth Nissan dealer, we hope you find our 2012 Nissan Cube reviews and research materials valuable in finding the details, specifications and information you've been waiting for. View Gwinnett Place Nissan's new lineup of 2012 Nissan Cube Compact Wagons.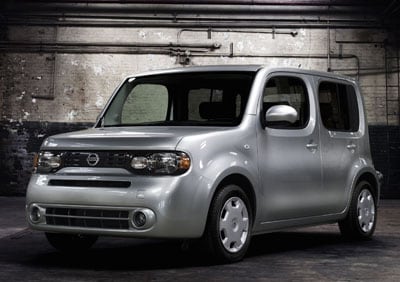 Gwinnett Place Nissan presents the 2012 Nissan Cube Compact Wagon
Shoppers find that when they compare the 2012 Nissan Cube to other makes like the Ford Fiesta, Scion xB, Chevrolet Aveo and Kia Soul, the Nissan Cube emerges as the most fun to drive. Look at our Quick List table below to see why!
The 2012 Nissan Cube has an starting MSRP of $13,990
The 2012 Nissan Cube gets 25 city / 30 highway MPG
The 2012 Nissan Cube goes from 0-60 MPH in 9.7 seconds
The 2012 Nissan Cube features 42.4 inches of legroom up front and 35.5 inches in back
The 2012 Nissan Cube features 42.6 inches of headroom in front and 40.2 inches in back
The 2012 Nissan Cube is 156.7 inches long, 66.7 inches wide and is 65 inches tall
The 2012 Nissan Cube weighs 2768 pounds and has a turning radius of 33.4 feet
We know you'll enjoy the Nissan Cube - visit Gwinnett Place Nissan in Duluth today!
The 2012 Nissan Cube from Gwinnett Place Nissan is one of the most extroverted vehicles in the automotive industry. It's not afraid to show off its glaring individuality and its owners love its out-of-the-box shape. The Cube features rounded edges and gentle slopes making its square form feel less geometric and more organic. The wraparound glass on the right rear corner of the vehicle helps reduce blind spots for the driver and adds just a little more flair to the look and feel of this one-of-a-kind hatchback. The Cube has a long list of accolades and awards. The 2010 Nissan Cube received a Top Safety Pick designation from the Insurance Institute for Highway Safety (IIHS), along with a "Best in Class Vehicle Satisfaction Award" from AutoPacific. In addition, the 2009 Cube was one of Kelley Blue Book's "Top 10 Coolest Cars under $13,990 ." These are just a few of its honors. Now, following the acclaimed 2011 Nissan Cube, this year's model returns with even more terrific features. As a premier Duluth Nissan dealer, we offer the 2012 Cube, as well as a large selection of used vehicles like the 2010 and 2011 Nissan Cube. Visit Gwinnett Place Nissan today for a test drive!
In Nissan Cube reviews, this unique hatchback gets high marks for its peppy performance, spacious interior and generous standard features. The 2012 Nissan Cube comes in three trim levels: Base, S and SL. Various features include an advanced Nissan Navigation System, Nissan Intelligent key, an available Bluetooth hands-free phone system, an Interface system for iPods and much more. You can find the Cube at Gwinnett Place Nissan in cool colors like Sapphire Black, Caribbean Blue, Scarlet Red and White Pearl. Visit our Duluth Nissan dealership today to learn more about each specific trim's features.
With many surprises loaded inside of its boxy exterior, the 2012 Nissan Cube has a fun jack-in-the-box character. It astonishes car shoppers every time with its vast number of powertrain, safety and convenience features. The front-wheel drive 2012 Cube springs to life with a spunky 1.8-liter DOHC four-cylinder engine that generates 122 horsepower and 127 pound-feet of torque. Duluth car shoppers can choice to match the four-cylinder with a smooth-shifting Xtronic Continuously Variable Transmission (CVT) or a six-speed manual transmission. Come take a ride in a 2012 or 2011 Nissan Cube today at Gwinnett Place Nissan and get ready for an exhilarating experience!
In IIHS and NHTSA's Nissan Cube reviews, the avant-garde hatchback gets high safety scores. Like all Nissan vehicles, the 2012 Cube from Gwinnett Place Nissan is equipped with anti-lock brakes, side airbags, driver airbags, side-impact bars, seat-belt pre-tensioners and more. Side-mounted curtain airbags and roof air-bags ensure that all passengers are highly protected from possible bodily injury and head trauma. Passengers riding in the forward two positions get additional protection. Dual-stage airbags are designed to deploy during front collisions and seat-mounted airbags activate during side impact. Unique hood buckling components and rear and front crumple zones also add to the safety of the Cube. Additionally, the 2012 Nissan Cube includes Traction Control and Vehicle Dynamic Control to further reduce the chance of injury. When Duluth car shoppers choose the Cube, they are also investing in their safety.
Visit Gwinnett Place Nissan to find one of the largest selections of new 2012 Nissan Cube cars in the area! This quirky, high-performance hatchback is an eye catcher. You'll also find a great collection of used Nissan cars like the 2011 Nissan Cube and 2010 Cube when you visit our Duluth Nissan dealership.
Cruising in a Nissan Cube from Gwinnett Place Nissan makes GA driving comfy, safe and enjoyable - all at the same time! Here's why:
Gwinnett Place Nissan has a massive inventory of 2012 Nissan Cube Compact Wagons with standard Nissan safety features like anti-lock brakes, traction control, driver airbags, passenger airbags, side airbags and more, making the 2012 Cube an NHTSA and IIHS favorite. In addition to these safety features, the 2012 Nissan Cube can capably seat up to 5 passengers. Trunk space with Nissan is never a worry; the Cube can hold up to 11.4 cubic feet of your stuff, ensuring that your next outing is hassle-free. To top it all off, the 2012 Nissan Cube includes an incredible list of comfort and convenience features like powered windows, mirrors, doors and locks, climate control, AC and optional hands-free phone and navigation systems. Take a test drive at Gwinnett Place Nissan today and experience the Nissan Cube for yourself.
The Nissan manufacturer's warranty covers the Cube for manufacturing defects and has a 3 years / 36,000 miles Nissan warranty. Nissan has worked for years to minimize its environmental impact; as a result, the Cube's carbon footprint is minimal. Not surprisingly, with all of the Cube's advantages, this reliable Nissan Compact Wagon retains a high percentage of its value at 3 years and 36,000 miles, which makes the Nissan Cube a great used buy! When seeking a safe, stylish and economical Compact Wagon, Duluth Nissan shoppers should head to Gwinnett Place Nissan, located at 2555 Pleasant Hill Road in Duluth, GA
Nissan Cube service information for Duluth
Nissan Cube lessees and owners in Duluth have found that Gwinnett Place Nissan at 2555 Pleasant Hill Road in Duluth is the very best choice for Cube warranty work, regular maintenance, inspections and mechanical repairs. At Gwinnett Place Nissan, Certified Nissan Technicians trained in the very latest corrective and diagnostic techniques work for one thing - your complete satisfaction. Whether it's time for your Nissan to have an oil change, brake pad replacement, or simply undergo Cube Scheduled Maintenance, Gwinnett Place Nissan is your first choice. Our Certified Nissan Techs also complete specialty jobs and repairs. Gwinnett Place Nissan is the smartest choice in Duluth for swift, amicable and professional Nissan Service of all kinds.
If you'd like to make an appointment to have your Cube serviced, click the link or just give us a call. We look forward to seeing you soon!