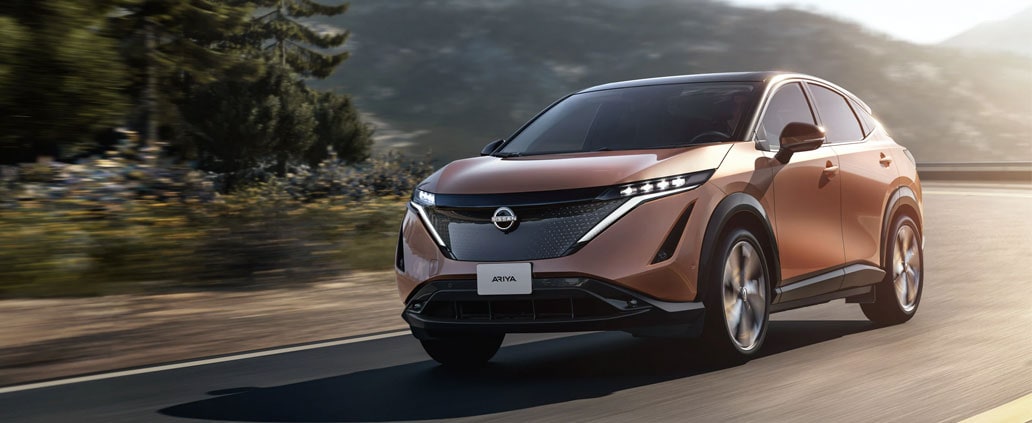 Nissan introduces its all-new electric crossover SUV with the 2022 Nissan Ariya. Its power output is subject to a few different factors, including the drivetrain and the size of the battery. The Nissan Ariya is configured with a standard battery with the option to upgrade to a slightly larger and more powerful battery. A seamless and sophisticated infotainment display screen comes with the latest amenities. Wood trim throughout the interior gives the Ariya a unique and attractive finish.
Nissan designed the 2022 Ariya with the comfort of all occupants in mind. The center console slides forward and backward based on the driver's preference. This crossover SUV also accommodates up to five occupants and has plenty of cargo space and legroom. You'll find some of Nissan's top safety equipment on the Ariya, along with its ever-popular Zero Gravity seats.
Its electric mechanical system is one of its main highlights. The 2022 Ariya is available with two batteries. The first battery, which comes standard, is a 63 kWh battery. The second battery, which is available for those seeking more power, is an 87 kWh battery. The first battery gives the Ariya a peak power output of 215 HP and a peak torque output of 221 LB-FT. The second battery produces a power output that reaches 389 HP and 443 LB-FT in torque. Power capacity on the Ariya also varies by drivetrain, which gives you the option of front-wheel drive or all-wheel drive, referred to as "e-4ORCE". The Ariya also comes with a fast-charge rate for the battery of up to 130 kW. Overall, the Ariya gets approximately 300 miles in range.
The interior of the Ariya is equally compelling. Its standard technology includes dual touchscreen displays that have a contemporary appearance and a user-friendly layout. Climate controls are accessible just by pressing the screen. Amazon Alexa, Apple CarPlay, and Android Auto are all included on the Ariya. The vehicle also comes with a choice of two safety packages, which are the Safety Shield 360 suite and the ProPilot 2.0. Along with offering many driver-assist safety aids, the Ariya is produced with a semi-automated highway driving system that disables the system if sensors detect that the driver is distracted.
Our Nissan representatives are happy to answer all of your questions and keep you informed on the new release. For further details or to reserve the 2022 Nissan Ariya, contact our dealership today.