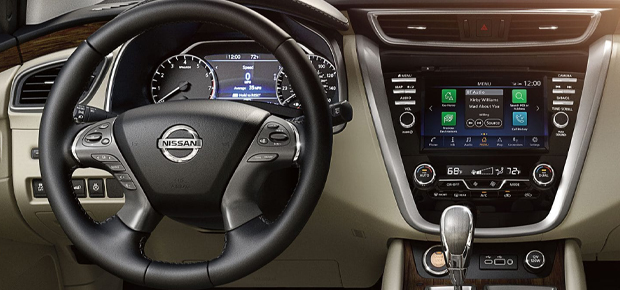 In modern vehicles, safety features are paramount. Suspension and braking systems may be electronically controlled, air bags have become standard and tire pressure can be monitored. These components seek to reduce accidents or lessen the impact of an accident. Some companies, such as Nissan, have taken driving safety to another level.
Wide Array of Features and Benefits
For 2020, Nissan's vehicles can come with a wide array of electronic monitors, cameras and warning systems to protect the driver, passengers and other people on the road. Warning systems detect when another vehicle has entered the driver's blind spots and when those behind the driver has changed lanes. The driver is alerted to a vehicle in the blind spot on the Advanced Drive-Assist® Display on the dash. If the driver begins to change lanes while a vehicle is in the blind spot, an audible chime will alert him or her.
Audible Safety Features
Other systems warn when the driver is approaching too closely to the vehicle in front. If the audible warning system is not heeded, the vehicle can brake automatically to avoid a collision or lessen the force of impact. New Nissan technology will spot not only the vehicle to the front, but pedestrians entering the roadway.
Nissan vehicles will monitor sudden lane departures and warn the driver. Sophisticated computers will track the operator's driving habits and alert the driver if he or she may need a rest. As fatigued driving can be a major cause of accidents, this feature is particularly useful.
User operated cameras are a priority in 2020 Nissan vehicles. Not only does Nissan provide a backup camera but the driver can switch the rearview mirror to a rear camera with a flip of a switch. This is particularly useful when the rear window is obstructed by cargo or passengers. The camera can be used day or night and in all types of weather. Another camera provides the driver a 360 degree view that allows the operator views from the front, the sides and the back.
Built For a Safer Driving Experience
These dozens of features and monitoring systems add up to a safer vehicle, a safer driver and a safer driving experience. It may also reduce accidents, injuries and fatalities. We at Gwinnett Place Nissan are proud to be a Nissan dealership and our trained staff wants you to experience the 2020 Nissan line of trucks, cars, minivans and SUVs. We are confident that after taking a test drive and experiencing the new safety devices, you will wonder how you drove without them.