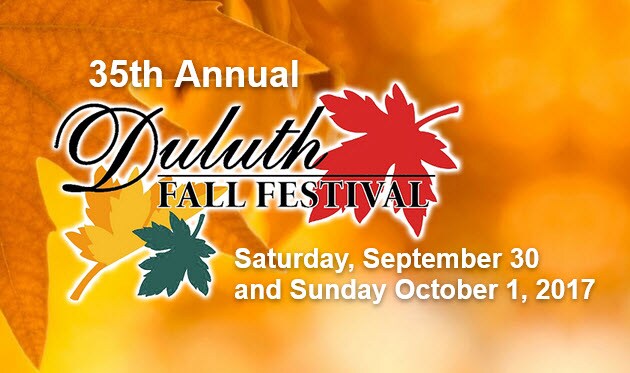 Downtown Duluth
3142 Hill St. NW
Duluth, GA 30096
Saturday, Sept. 30, 2017
Sunday, Oct. 1, 2017
Celebrate the turn of the season at Duluth Fall Festival, a cherished annual event that has delighted thousands of visitors year after year. Come out with your family and friends to enjoy the festival parade, live music and carnival!
Lots of entertainment is on the schedule at the Festival Center and Parson's Alley stages. From the Cindy Brown Dancers to rock-and-roll music from Clear Redemption and a fun tribute to Elvis show from Matt Pitt, there will be plenty to see. If you have kids, also make sure you catch Puppeteer Kevin Pitman and His Forest Friends.
The Gold Medal Shows Carnival is another big highlight of the Duluth Fall Festival, offering exciting rides and popular carnival food. Get your adrenaline pumping on the Dizzy Dragon, chair swings and other rides. Then, when you work up an appetite, grab a quick bite at the Midway. From snow cones to caramel apples, you'll find plenty of fair favorites.
It wouldn't be the Duluth Fall Festival without the festival parade, so come one and come all – cheer on local schools, the boy and girl scouts, and all others who have worked hard to put on the parade. It begins at 10 a.m. on Main Street near the Coleman Middle School and culminates at Hardy Industrial Boulevard and Buford Highway.
There's even more to learn about the festival, so visit the official website, where you'll find information about the Donut Dash 5K, Man's Corner, Kid's Corner, free shuttles, parking and much, much more. We hope to see you there!