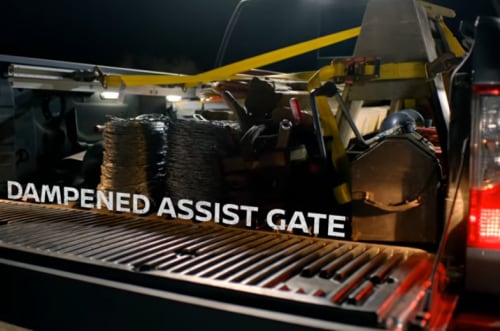 Nissan has stepped up the features on their well-loved 2017 Titan PRO-4X model. No longer is the bed of your truck just a utilitarian surface to hold cargo. Nissan has improved its versatility so drivers can get the most out of their vehicle.
Take a look into the new features on the 2017 Nissan Titan PRO-4X:
Dampened Assist Gate


Titan's tailgate dampener allows for smooth opening and closing that gently lowers the door and does not require slamming to be clicked shut. Better yet, this tailgate can also be locked remotely with the click of a button on your key fob.



Flexible Utili-track cargo system


This innovative feature uses a set of tracks and movable cleats to which you can anchor cargo of any size. You can secure items anywhere along these channels, avoiding traditional locked in loops that don't allow for effective use of space.



Rugged bed liner


The bed liner is made of a heavy-duty polymer that provides a nonslip surface. It allows for loading traction and it prevents cargo from sliding around. The material and design also prevents rust.



LED bed lights


LED bed lights are useful when loading or unloading in low light. These lights will allow you to clearly see your cargo and prevent you from digging through all of your items to find what you need.



110v power outlet


This is a household-style outlet that allows you to use power tools or charge items while you work. It can be useful for setting up an extension cord for outdoor lighting to illuminate any work done at night or on a campsite.
Check out this video to see these bed features in action!
Take a look at the Titan and other Nissan cars, trucks and SUVs in our new car inventory.