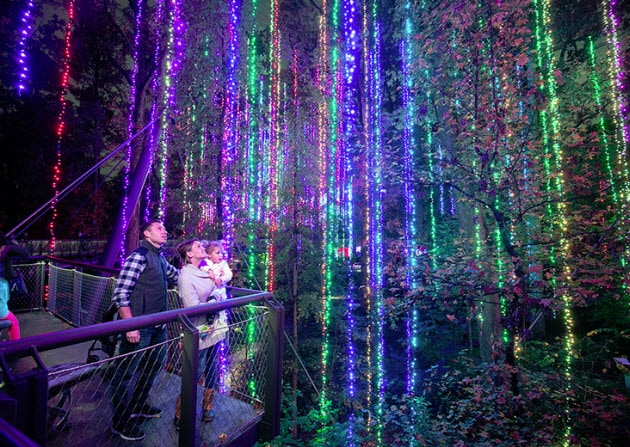 Nov. 11, 2017 – Jan. 7, 2017
Friday & Saturday: 5 p.m. to 11 p.m.
Sunday-Thursday: 5 p.m. to 10 p.m.
1345 Piedmont Avenue
Atlanta, GA 30309
'Tis the season for Garden Lights, Holiday Nights at the Atlanta Botanical Garden. If you've never attended, make a list and check it twice to ensure that you don't miss out this year!
The dazzling sights and sounds of the yuletide season are in full force at the Garden's premier holiday event, which highlights the beauty of nature with dazzling light installations. There are numerous exhibits that'll have you singing "fa la la la la" all the way home—from the Orchestral Orbs and Radiant Rainforest to Glittering Galaxy, Tunnel of Lights and Walk of Flames.
In addition, every year there's a special features exhibit. This year's is called Nature's Wonders, and it's described as immersive and breathtaking by the Garden's CEO and President, Mary Pat Matheson. Get a sneak peek at Nature's Wonders in the video below!
Garden Lights, Holiday Nights features 1,600 strings of light containing over 70,000 LEDs that are choreographed to music and sound effects. Visit to hear popular holiday tunes as you take in spectacular sights!