As winter closes in on us, now is the time to pay some close attention to winter car care. Our vehicle always requires maintenance, but in order to stay safe when the temperatures drop, some preparation is needed. You've made the investment in a new car, take the necessary steps so your investment is protected. Let us here at Gwinnet Place Nissan help you with your winter car care. Here are some things to pay attention to.
Headlights
If your headlights are not bright enough, you aren't going to be able to see through the snow and increased darkness. Have your headlights serviced to light the road in front of you, but also to help other people on the road see you coming. Clean the casing of your headlights to remove any build up of snow, slush, road salt, etc. You may also need to clean off the bulbs. Be careful during this process so you don't shatter anything. You may need to reposition your headlights so they point at the right angle. A lot of headlights end up point too far down. You can't see properly when this happens. Invest in new bulbs if you feel like your headlights aren't leading the way for you.
Top Off Fluid Levels
There are a number of fluids in your vehicle that are especially important during the winter months. First, make sure that you always have half of a tank of gas in your vehicle during the winter. You don't want to run out of gas and get stuck in the cold. Second, top off your coolant levels. This is the antifreeze product in your vehicle that keeps your engine from freezing and seizing up in the frigid temperatures. Check your windshield wiper fluid as well. This will keep your windshield from freezing over. You can also use this fluid to clean off road salt and dirt.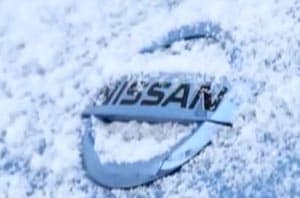 Essential Items
You can never be too prepared in the winter months. Make sure you prepare for the worst. If your vehicle gets stuck in a traffic jam, or you get stuck on the side of the road because of inclement weather, you'll want some specific items on hand. You can stay warm with plenty of blankets and hand warmers. Water and food items will keep you from getting too hungry. Road flares will make your vehicle visible if you are waiting to be rescued. If you are handy, keep some tools on hand for basic repairs. An ice scraper and snow brush is another important item to always keep in your vehicle in the winter. You never know when you might come out to a car covered in snow or ice.
Windshield Wiper Blades
A very affordable item on your vehicle to replace and maintain, your windshield wiper blades are an important part of winter safety. This is part of your vehicle that will keep your windshield clear while you are driving. Inspect your current set of blades for tears or cracks. Replace them if needs be. You should make sure that the set of blades you have on your vehicle are designed for the winter. All-season blades won't cut it in the middle of winter.
If you would like some assistance with your winter car care, stop down to Gwinnet Place Nissan. We have a great staff of experienced service technicians that will help make quick work of your routine maintenance. We want to make sure that you are safe all winter long. A little bit of maintenance now can go a long way to keeping you safe while on the roads this winter.